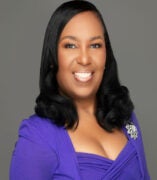 Margena A. Christian, Ed.D.
Senior Lecturer
English and Professional Writing
Contact
Address:
601 S Morgan St.
Office Phone:
Email:
Related Sites:
About
Margena A. Christian's research interests focus on the intersections of the role of the media in education, Black popular culture and historical inquiry. Most recently she was the recipient of TheHistorymakers 2022-2023 Faculty Innovations in Pedagogy & Teaching Fellowship, and she was selected for the 2022-2023 OpEd Project Public Voices Fellowship at the University of Illinois System. In 2021, Christian was chosen by the UIC Chancellor's Committee on the Status of Blacks (CCSB) as a Black History Maker.
A founding faculty member of the Professional Writing minor, she developed and designed, in 2016, UIC's first-ever ENGL 383: Writing for Digital and New Media course along with ENGL 381: Advanced Professional Writing, both in the Professional Writing concentration. Other courses of instruction that Christian teaches or has taught include the following: Introduction to Academic Writing, Academic Writing 1, Media/Professional Writing, and Editing/Publishing. She also is an instructor with the UIC Summer Enrichment Writing Workshop (SEWW).
She also teaches in the Honors College  where she's instructed, developed and designed a seminar course called Say It Loud, I'm Black and I'm Proud: Writing About the African American Media and a core course titled Reporting While Black: Why Who Controls the Narrative Matters.
Christian is a 2019-2020 recipient of the UIC Teaching Recognition Program Award. As a 2017 UIC recipient of the Lecturers' Distinguished Teaching Award for English Studies, she is a former Assistant Director of the First-Year Writing Program. The St. Louis native earned a bachelor's degree in Mass Communications (concentration journalism), along with a certification in Creative and Professional Writing, from St. Louis University. A 2010 Distinguished Alumni Award recipient at National Louis University (NLU), she earned both a master's degree and a doctorate at NLU.
The media scholar is a former Senior Editor and Senior Writer with the pioneering, African-American monthly EBONY magazine. She is the only editor in the history of Johnson Publishing Company (JPC) to have written for EBONY, JET, EBONY Man, EBONY South Africa, EBONY Fashion Fair and EBONY.com. She compiled the history for EBONY Fashion Fair, JPC's pioneering traveling fashion show, and was the last editor at JPC to have worked with late publishing magnate John H. Johnson, founder of JPC, before leaving the company in 2014.
Commissioned articles written by Christian about John H. Johnson, Eunice W. Johnson, Lerone Bennett Jr., Bo Diddley, Tupac Shakur, Christopher "Notorious B.I.G." Wallace, Donna Summer, Aaliyah, Luther Vandross, Ossie Davis, and Della Reese are on American National Biography (Oxford University Press).  Excerpts of JET magazine stories she authored have been used in academic textbooks, including Ideas & Details: A Guide to College Writing, Making Media Work: Cultures of Management in the Entertainment Industries and in Magazine Writing.
She served as a Digital Kickstarter Producer for Hair Love, the 2019 movie that won Best Animated Short Film at the 92nd Annual Academy Awards.