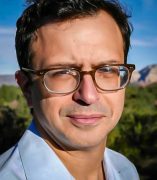 Daniel Borzutzky
Associate Professor
English; Latin American and Latino Studies
Contact
Building & Room:
1907 UH (MC 192)
Office Phone:
Email:
About
Bio
Daniel Borzutzky holds a joint appointment in the Latin American and Latino Studies Program. He has recently taught Creative Writing workshops as well as courses in U.S. Latinx Literature and Latin American Literature, with a specific interest in the ways in which they intersect.
He is a poet and translator from Spanish. His 2016 collection, The Performance of Becoming Human (Brooklyn Arts Press), won the National Book Award. His most recent publication are Written After a Massacre in the Year 2018 (Coffee House Press, 2021); and Lake Michigan (University of Pittsburgh Press, 2018), a finalist for the Griffin International Poetry Prize. His work has been recognized with grants from the National Endowment for the Arts, the PEN/Heim Translation Fund; and the Illinois Arts Council.
He's worked as an editor at Kenning Editions, overseeing the publications of new translations from Cuba and Argentina. He also serves as the Intercambio (Spanish-translation) poetry editor at Chicago's MAKE Magazine; and he is an artistic director for MAKE's Lit and Luz Festival, an ongoing collaboration between writers and artists from Chicago and Mexico.
Research Areas
Contemporary Literature | Creative Writing – Poetry | Poetry and Poetics | Creative Writing – Fiction | Latinx Studies | Translation and Latin American Literature
Selected Publications
Poetry:
Written After a Massacre in the Year 2018 (Coffee House Press, 2021)
Lake Michigan (University of Pittsburgh Press, 2018)
The Performance of Becoming Human (Brooklyn Arts Press, 2016)
In the Murmurs of the Rotten Carcass Economy (Nightboat Books, 2015)
Memories of my Overdevelopment (Kenning Editions, 2015)
The Book of Interfering Bodies (Nightboat Books, 2011)
Translation:
Galo Ghigliotto's Valdivia (Co-im-Press, 2016)
Raúl Zurita's The Country of Planks (Action Books, 2015)
Raúl Zurita's Song for his Disappeared Love (Action Books, 2010)
Jaime Luis Huenún's Port Trakl (Action Books, 2007)