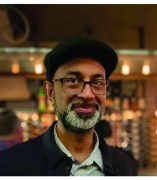 Sunil Agnani
Associate Professor
English and History
Contact
Address:
601 S Morgan St.
Office Phone:
Email:
Related Sites:
Selected Publications
"Edmund Burke and Hannah Arendt: Decolonization, Resentment, and the Social Question." Peer-reviewed, 14K words. boundary 2 49:4 (Nov 2022): 33-65. https://doi.org/10.1215/01903659-10045146
"Comment ne pas lire les Lumières : John Morley et la réception victorienne de l'Histoire des deux Indes." Diderot et la Politique, aujourd'hui, Paris: Société Diderot, 2019.
"The Reception of Edmund Burke's Imperial Ideas Relating to India, or Burke, the Brahmin and the Hot-House." London: Bloomsbury Press/Continuum, 2017.
"Colonial Ressentiment, Enlightenment Thought, and the Impasses of Decolonization." Studies in English Literature 1500-1900, Vol 56 (Autumn 2016).
"India and Haiti as Colonial Spaces of the Enlightenment" in L'Inde des Lumières; Entre l'orientalisme et les sciences sociales, Purushartha 31, École des Hautes Études Press, Paris: 2013.
"Entre la France et l'Inde en 1790 : Edmund Burke et les révolutions en Europe et en Asie" (Translation by Ann Sommereux). Contribution to Rêver d'Orient, connaître l'Orient : Visions de l'Orient dans l'art et la littérature britanniques, Isabelle Gadoin and Marie-Élise Palmier-Chatelain (Eds.). Lyons: ENS ÉDITIONS / École normale supérieure, 2008: 285-304.
"Jacobinism in India, Indianism in English Parliament: Fearing the Enlightenment with Edmund Burke." Peer-reviewed. Cultural Critique (Issue 68), Winter 2008: 131-162.
"Doux Commerce, Douce Colonisation: Diderot and the Two Indies of the French Enlightenment." Contribution to The Anthropology of the Enlightenment, ed. by Larry Wolff & Marco Cipoloni. Stanford: Stanford University Press, 2007: 65-84.
"Editor's Column: The End of Postcolonial Theory? A Roundtable with Sunil Agnani, Fernando Coronil, Gaurav Desai, Mamadou Diouf, Simon Gikandi, Susie Tharu, and Jennifer Wenzel." Ed. by Patricia Yaeger, Publications of the Modern Language Association / PMLA 122 (2007): 633-51.
"William Kentridge: Memories of Europe in the Colony." ArtIndia, Vol. X, issue iii, July/August 2005: 22-25.
Review Articles:
"For the Love of Lost Sovereignty: Egypt & Postcolonial Thought." Cultural Critique (Issue 89), Winter 2015: 211-221.
"At the Gates of Realism. Srinivas Aravamudan's Enlightenment Orientalism: Resisting the Rise of the Novel." Cambridge Journal of Postcolonial Literary Inquiry, Vol. 1, Issue 3 (Fall 2014): 1-5.
"On the Purported Death of Paris: Pascale Casanova's The World Republic of Letters." Postcolonial Studies, Vol. 9, Issue 3, September 2006: 329-335.
"Teaching in Dark Times: A Review of After the World Trade Center: Rethinking New York City." Postcolonial Studies, Vol. 6, Issue 1, Winter 2003: 123-129.