Freshwater Lab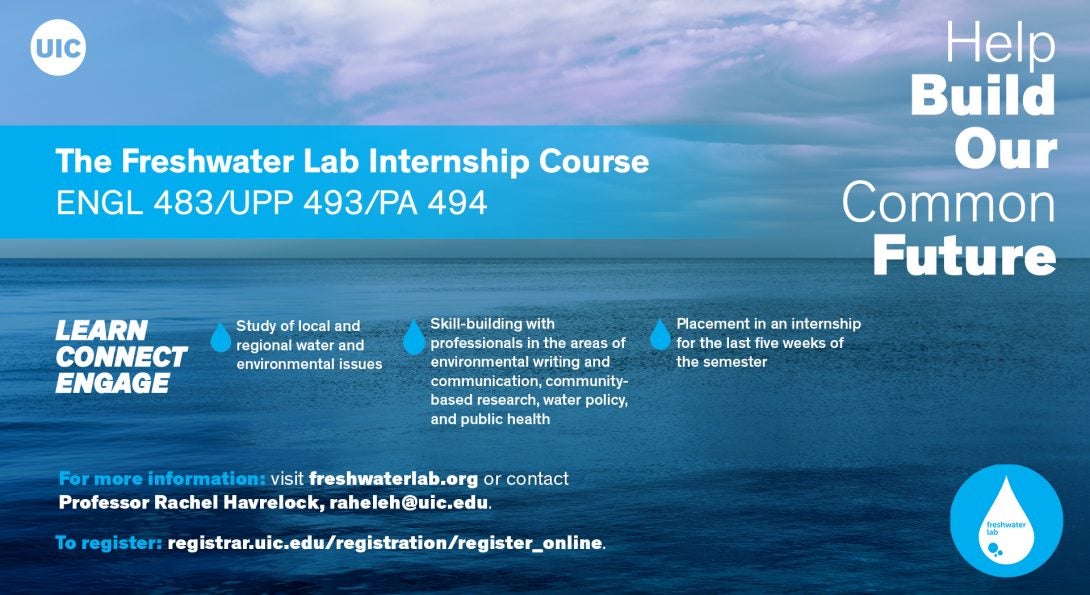 Led by UIC English faculty member Rachel Havrelock, the Freshwater Lab is a grant-funded, interdisciplinary program that provides graduate students with hands-on training in environmental humanities and science-humanities collaboration.
The Freshwater Lab is committed to helping people adapt to the world's changing water geography.  Rather than predicting competition or impending water wars, we promote reconciliation and stability through shared water management.  As the site of 20% of the world's water, the Great Lakes offer residents of the basin a remarkable opportunity to transform post-industrial economies and neighborhoods into vibrant sites of 21st century innovation.
The Great Lakes are public commons, shared by all who live here, and an unparalleled source of drinking water.  The pride, memories, and traditions of Great Lakes residents are integral to protecting them.  Local knowledge about water is also vital to ensuring that water safely reaches homes and leaves businesses and farms without becoming contaminated.  Building such local knowledge brings communities together to plan for a mutually beneficial future and can help to ease historical misunderstandings.  The relative abundance of Great Lakes water presents us with remarkable opportunities to model a blue economy and water equity.
The Great Lakes basin can model water governance and social stability on the global stage.  Institutions like the Great Lakes Compact, the International Joint Commission, and the Great Lakes and Saint Lawrence Cities Initiative lead the way in basin-wide water governance.  The Freshwater Lab engages in "water diplomacy," connecting Great Lakes leaders to representatives from other watersheds in order to promote understanding and best practices.
The Freshwater Lab also trains a new generation of professionals to manage and steward water systems.  Freshwater Lab students confront pressing water issues, partner with professionals to understand current programs, and engage in projects that propose solutions and envision water futures.