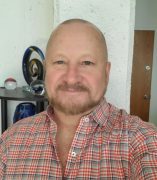 Alfred Thomas, PhD
Professor
English
Contact
Address:
601 S Morgan St.
Office Phone:
Email:
About
Bio
I was educated at Trinity Hall, University of Cambridge, where I took my BA and PhD. As a scholar I am interested in exploring cultural and political connections between late medieval England and Europe. My book "The Court of Richard II and Bohemian Culture" (2020) examines the influence of Anne of Bohemia, queen consort to King Richard II, on Chaucer, the Gawain-poet and Gower and argues that these writers did not perceive themselves as "English" in a modern nationalist sense but as participants in a burgeoning vernacular court culture that extended from England to Bohemia and from Paris to Prague.
My most recent book "Writing Plague: Language and Violence from the Black Death to COVID-19" (2022) analyzes pandemic writing across seven centuries from Chaucer and Boccaccio in the fourteenth century to film and fiction in the twentieth century. It argues that in times of pandemic human beings display a similar need to demonize and scapegoat minorities.
My perspective both as a scholar and as a teacher is to place English medieval writing in the larger context of European and modern culture. This transtemporal and transnational approach to the later Middle Ages is based on the firm belief that in order to understand ourselves we need to understand the past.
My teaching reflects a similar awareness of the deep relevance of the past to our contemporary experience. Last spring I taught a seminar on plague literature from Sophocles to Shakespeare with the intention of demonstrating similarities as well as differences between reactions to plague across the centuries from classical Greece to early modern England.
Other courses include "The Two Traditions of King Arthur in Medieval Britain" and "Women as Readers, Writers and Patrons in Medieval England and Europe." My ENGL 120 course "Dystopia: Science Fiction and Film from H.G. Wells to Bladerunner 2049" reflects my side interest in science fiction and cinema.
Research Areas
Comparative Literature | Early Modern/Renaissance British Literature | Gender and Sexuality Studies | Medieval British and European Literature