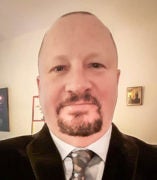 Alfred Thomas, PhD
Professor
English
Contact
Address:
601 S Morgan St.
Office Phone:
Email:
About
Bio
I was educated at Trinity Hall, Cambridge University UK, where I took a BA (in 1981) and a PhD in medieval literature (in 1987). I specialize in literary, political and religious connections between England and Europe (in particular Bohemia and the Holy Roman Empire) in the fourteenth and fifteenth centuries and have published several monographs (see below) on these affiliations. I have also published on Shakespeare's drama in relation to Central and Eastern Europe, the  Middle Ages, and Catholicism. Thus my research seeks to dismantle the diachronic and synchronic binaries that artificially separate the medieval from the medieval period and England from Europe in the pre-modern period.
My current book project is titled "Richard II and the International Court Culture" and seeks to place the works of Geoffrey Chaucer, the Gawain-Poet and John Gower in the larger framework of European culture. It is precisely because the English court of Richard II was so closely identified with its counterparts in Paris, Prague and Naples that English literature achieved a European prominence and sophistication at the end of the fourteenth century.
My published books include Anne's Bohemia: Czech Literature and Society, 1310-1420(Minnesota, 1998); A Blessed Shore: England and Bohemia from Chaucer to Shakespeare(Cornell, 2007); The Bohemian Body: Gender and Sexuality in Modern Czech Culture(Wisconsin, 2007); Prague Palimpsest: Writing, Memory, and the City (Chicago, 2010), and Shakespeare, Dissent and the Cold War (Palgrave Macmillan, 2014). I also co-edited (with Judith Ryan) a volume of cultural studies essays titled Cultures of Forgery: Making Nations, Making Selves (Routledge, 2005), Reading Women in Late Medieval Europe: Anne of Bohemia and Chaucer's Female Audience (Palgrave, 2015). My most recent book is titles Shakespeare, Catholicism, and the Middle Ages (Palgrave, 2018). I also had an article titled "Kafka's Statue: Memory and Forgetting in Post-Socialist Prague" published in the Revue des études slaves.
My broad teaching interests reflect my interdisciplinary and transnational approach to scholarship:
ENGL 241 (Survey of English Literature from the Beginnings to 1660) interrogates what "English" actually means in a culture that was essentially trilingual (Latin, English, Anglo-Norman) and explores the important contribution of women as well as men to writing in these languages (Marie de France in Anglo-Norman French, Julian of Norwich, and Margery in English).
ENGL 408 (Topics in Medieval English Literature) is devoted to the theme of King Arthur and his Round Table up to 1500 and how this fascinating body of literary material was mediated to diverse audiences through a variety of genres and languages (Old Welsh stories, Latin chronicle histories, and French and English romances in verse and prose). This course also demystifies the romantic notion of Arthur as "the once and future king" who transcends time and space to show that the fictional representation of Arthur mutates-- by turns a strong ruler and warrior, at others a passive and weak cuckold-- thereby reflecting the unstable political situation of feudal England in which able kings like Edward I and Edward III often alternated with weak kings like Edward II, Richard II, and Henry VI.
Research Areas
Comparative Literature | Early Modern/Renaissance British Literature | Gender and Sexuality Studies | Medieval British and European Literature