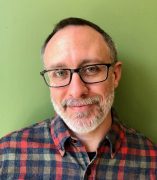 Aaron Krall, PhD
Senior Lecturer
English
Contact
Address:
601 S Morgan St.
Office Phone:
Email:
About
Aaron Krall teaches and writes about first-year writing, basic writing, drama, theatre, performance, and the city. He recently published "Building the Entertainment Machine: Charles L. Mee's Time to Burn and the Performance of Postindustrial Decay in Chicago" in Theatre Survey, contributed a chapter titled "Theatrical Geographies of Segregation: Spatial Displacement in Theodore Ward's Big White Fog" to Makeshift Chicago Stages: A Century of Theater and Performance, and wrote for the Shakespeare 400 Chicago City Desk Blog. Krall also writes about issues in composition and rhetoric. He is currently revising a manuscript titled "Disrupting Remediation: Neoliberalism, the Completion Agenda, and First-Year Writing," and he regularly presents his research at the Conference on College Composition and Communication, the Thomas R. Watson Conference on Rhetoric and Composition, and other national conferences.
Krall is also committed to supporting basic writers at UIC. He is the Coordinator of the Summer Enrichment Writing Workshop, a pre-matriculation intervention designed to advance students from non-credit preparatory courses into credit-bearing writing courses, and he worked with the UIC Student Success Initiative to develop a writing studio course to mainstream preparatory English students in order to help them complete their writing requirements more quickly and more successfully.
He is currently serving as Executive Vice President of UIC United Faculty, Local #6456. He holds his PhD in Modern Studies from the University of Wisconsin-Milwaukee, a MS in Theatre History from Illinois State University, and a BA in English from the University of St. Francis.