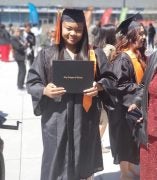 Chasitity N Garland
CURA Research Assistant
Professional Writer
English
Pronouns: She/Her/Hers
About
Starting at Harold Washington, a community College in 2017, Chasitity Garland began to seek through her way of finding what degree would best interest her. After thinking about what she loved, she eventually decided to study Theatre and Performance, having a passion for Acting and loving the Arts. Throughout her two years at Harold Washington College, she took Scene Study, Improvisation, and History to Theatre classes that guided her through her journey of becoming a Professional Actor. As she took English courses as part of her prerequisites, she started to visit the Writing Center to get help on her assignments. She eventually became connected to the way the tutor analyzed her different styles of writing, editing her papers, and correcting grammar.
Continuing her education, she decided to transfer to a four year University to continue to pursue her Acting career,learn more about the fundamental elements of creating the Theatre, and receive a Bachelor's Degree. After searching for an University that best meets her needs, she decided to attend Governors State University, majoring in Theatre and Performance Studies. From there she continued to take advanced courses in Acting but became introduced to writing courses related to Theatre. Later, Garland started to become interested in the writing process as she crafted scripts for plays and wrote theatre critic essays, wanting to seek more opportunities other than Acting and explore the writing process.
After attending Governor State University for one year, Garland decided to transfer to University of Illinois at Chicago, majoring in Theatre and Performance and minoring in Professional Writing after becoming inspired from her Writer Tutor's responsibilities at Harold Washington College then taking writing courses at Governors State University. As a Professional Writer, Garland has encountered different styles of writing that would help enhance her writing career. In the future, she plans to continue her Acting career as well become an editorial specialist and journalist.