Feb
4
2021
Institute for the Humanities Faculty Fellow Lecture: Anna Kornbluh, "Immediacy: On Style Lately"
February 4, 2021
4:00 PM - 6:00 PM
Address
Chicago, IL 60612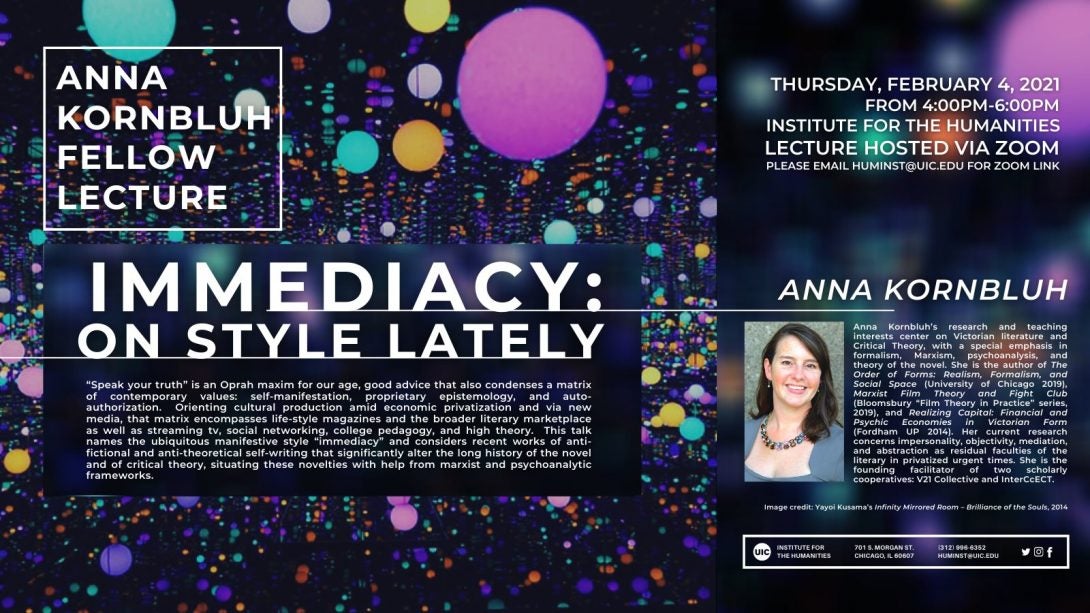 Event: Thursday, February 4, 2021
Time: 4:00-6:00pm CST
Please email huminst@uic.edu to join us on Zoom.
"Speak your truth" is an Oprah maxim for our age, good advice that also condenses a matrix of contemporary values: self-manifestation, proprietary epistemology, and auto-authorization. Orienting cultural production amid economic privatization and via new media, that matrix encompasses life-style magazines and the broader literary marketplace as well as streaming tv, social networking, college pedagogy, and high theory. This talk names the ubiquitous manifestive style "immediacy" and considers recent works of anti-fictional and anti-theoretical self-writing that significantly alter the long history of the novel and of critical theory, situating these novelties with help from marxist and psychoanalytic frameworks.
Anna Kornbluh's research and teaching interests center on Victorian literature and Critical Theory, with a special emphasis in formalism, Marxism, psychoanalysis, and theory of the novel. She is the author of The Order of Forms: Realism, Formalism, and Social Space (University of Chicago 2019), Marxist Film Theory and Fight Club (Bloomsbury "Film Theory in Practice" series, 2019), and Realizing Capital: Financial and Psychic Economies in Victorian Form (Fordham UP 2014). Her current research concerns impersonality, objectivity, mediation, and abstraction as residual faculties of the literary in privatized urgent times. She is the founding facilitator of two scholarly cooperatives: V21 Collective and InterCcECT.
Date updated
Jan 14, 2021